Managed IT Service is an innovative approach of providing Business IT Support where an IT Service Provider proactively monitors and resolves issues with the client network, servers, desktops, and all networked IT Infrastructure.
Traditional IT Support, also referred to as "break-fix" was a reactive approach to solving IT problems that a business faced. When something stopped working, support would be called upon to investigate the cause and fix it. This led to a huge lag time between the problem occurrence and its resolution.
With our Managed IT Services, TXC Technologies LLC continuously monitors a client network for problems using advanced monitoring tools. Our IT Support team is immediately and automatically notified when a problem occurs, and can act fast to resolve it, most times even before end-users are impacted.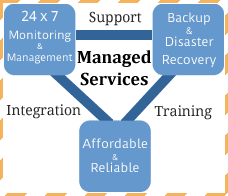 TXC Technologies LLC provides leading Managed IT Services using remote monitoring and management technology to maintain a healthy client IT network. Our advanced Network Operations Center works 24×7 to successfully manage numerous client networks, and enabling them to focus on their business and hence be more productive.
Affordable and Reliable IT
For a reasonable fixed monthly fee, we become your complete Information Technology (IT) and software provider. Our experienced engineers will do more than just fix your problems; we will implement Solutions. We draw upon the knowledge gained from over 20 years of being in the industry, so that you can focus all your time on what your business does best and leave the technology to us.